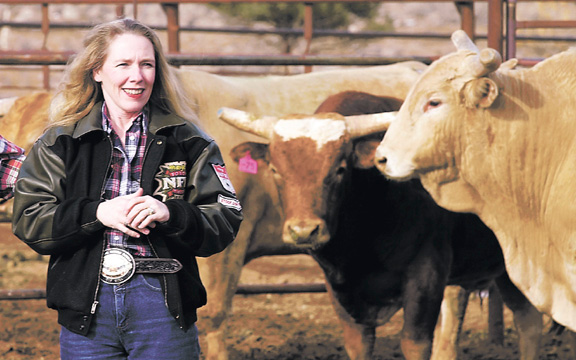 Cyndi Gilbert
Cyndi's grandparents, D. Claude and Martha J. Urie (with the Lazy JU Brand) originally homesteaded 5,000 acres west of Cedar City, Utah—a piece of land the Gilberts' livestock continue to roam today. Though a native of the area herself, Cyndi didn't grow up riding livestock or roping calves. A Cedar High School graduate, pianist and marimba player, Cyndi graduated from SUSC (now Southern Utah University) and Brigham Young University's law school, became a lawyer by profession, and had never actually been to a rodeo when she met Steve. Little did she know she would one day learn to share Steve's passion for rodeo. Since officially joining the rodeo business in 1991 as a PRCA stock contractor and forming the Diamond G Rodeo business in 1991, the livestock have truly stolen her heart.
Cyndi's love for the livestock—animals she describes as beautiful and majestic—is apparent. But sitting by and admiring their magnificence isn't what she does all day. The first and only female to flank and win gold buckles in all three rough stock events at the Wrangler National Finals Rodeo (WNFR). Cyndi is a gold card member of the Professional Rodeo Cowboys Association (PRCA), Cyndi won three gold buckles in the 2001 10-day NFR which included breaking a 30 year bullriding score. The record still stands today with 96 points out of 100. As flanker (a task that involves pulling the flank strap to the proper snugness to fit the particular animal as they leave the chute), many fans have been awed at her bravery and finesse with the large animals.
Aside from flanking the livestock, Cyndi is fascinated by the animals bloodline. Committed to producing the best stock, she oversees detailed records of the animals. This includes bucking tendencies, DNA pedigrees and cloning—resulting, ultimately, in some of the best bred livestock in the business.