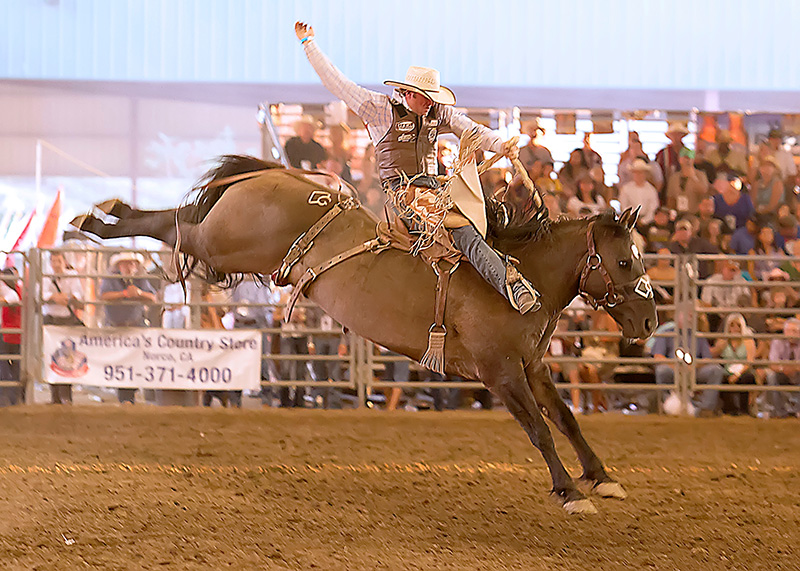 BuckingHorses
Breeding bucking horses is another aspect of Diamond G Life, though for the past few years, time and capital have primarily been devoted to the breeding of bulls. The Gilberts learned that it takes years of care and thousands of dollars invested to find solid or superstar horses.
Turning to Northern breeders to provide most of their saddle-bronc and bareback horses, the couple soon learned that the livestock needed to be gentled in ordered to be workable. Dummies are often used for the first several rounds of riding to see how a horse bucks and winning their trust is a prime goal for the first little while.
The rugged terrain of the Diamond G ranch is perfect training grounds for the livestock to gain shape and muscle.
HorseAwards
Three 90-point rides in one night at the Cedar City PRCA Rodeo
Registering a 90-point score in saddle bronc riding is not totally uncommon, but to have three in the same performance is quite unsual.
That's what happened June 13, 2014 at the Cedar City (Utah) PRCA Championship Rodeo when event winner CoBurn Bradshaw had a 91-point ride on Marla's Rose, while Jake Wright scored 90 points on Dunn Gone k.k.a. Lukas' Gone Wild and his brother and two-time world champion Cody Wright had a 90-point ride on Black Knight. Bradshaw is a brother-in-law to Jake and Cody Wright.
"Having three 90-point rides in one performance is a big deal," said Steve Gilbert.