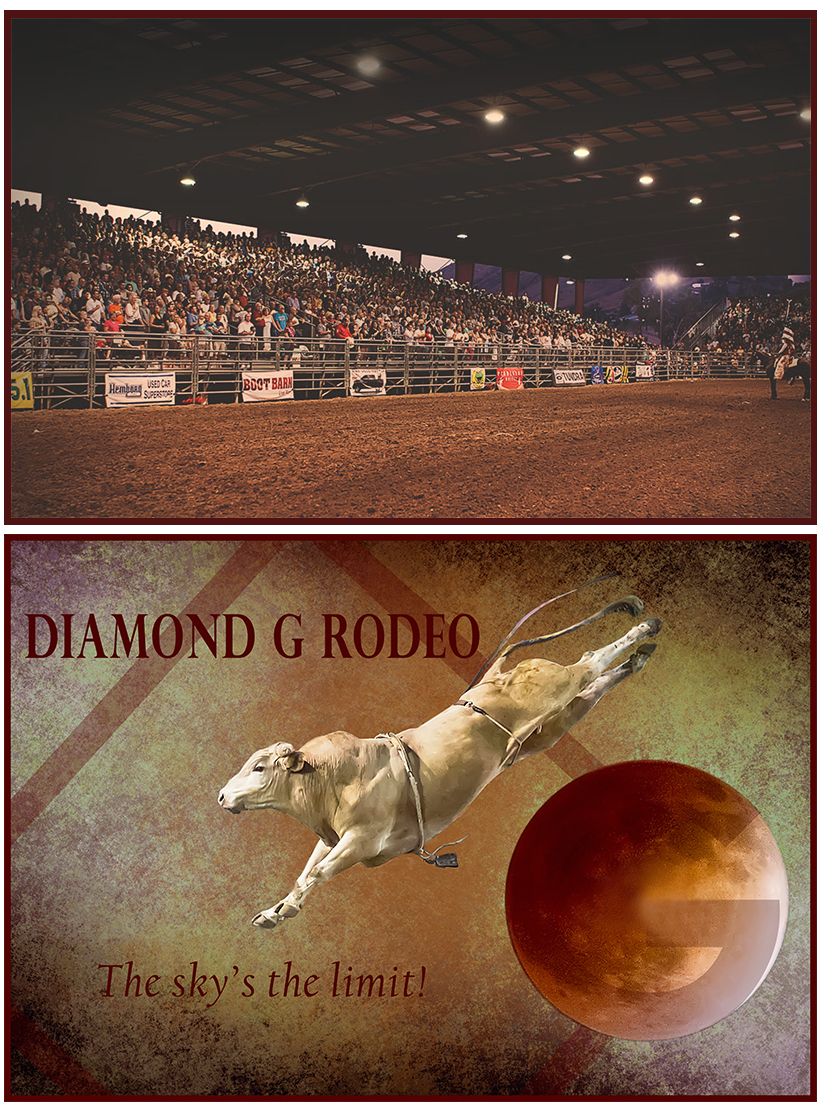 Overview & HistoryRodeos
Overview
The PRCA and PBR's are the pinnacle of what Diamond G is about—the proving grounds for the back-breaking work that goes into breeding and raising the best bulls and horses. Thousands of priceless memories, dozens of record-breaking wins, and lots of happy cowboys given the privilege to ride—what goes on in the PBR, PRCA and other organizations is the Gilberts' pride and joy.
History
The Diamond G livestock have big-time names in arenas all over the West. With winning bucking stock like Mr. USA, White Magic, Marla's Rose and Lucas' Gone Wild, cowboys know which stock belong to Diamond G. With rides rated by two judges, each with a 25 point allotment to give the rider and 25 for the bull, 100 points equals a perfect ride. A record-breaking 96-point win with Mr. USA and rider Cody Hancock treasured by the Gilberts in 2001, but a record they still aim to beat. Mr. USA later competed and won Gold at the 2002 Winter Olympic Command Performance Rodeo, dazzling thousands of fans including — Mitt and Ann Romney. Popular venues for the Gilbert's stock to perform include the Days of '47 Rodeo in Salt Lake City, Utah; San Bernardino Sheriff's Posse Rodeo, Temecula, Anaheim, San Dimas, and Norco, CA; Phoenix, AZ; Reno and Las Vegas, Nevada; Helldorado WNFR & PBR; San Antonio and Houston, Texas; Jordan, Vernal, Coalville, Heber City, and Ogden in their home state of Utah; Denver, CO; and even farther across state lines in the past at Rapid, City, South Dakota, Cheyenne, WY, Moll'alla, OR, Ellensburg and Seattle, WA, Portland, OR, among others nationwide.
Our goal remains the same as it has always been—to put on a professionally run rodeo filled with lots of action, that is done in two hours.
Having entertained rodeo fans for years, Cyndi explains, "Our goal remains the same as it has always been—to put on a professionally run rodeo filled with lots of action, that is done in two hours."
History of PRCA Rodeo Production
Diamond G currently furnishes livestock for the Summit County Fair & Rodeo (Coalville, UT);
San Bernardino Sheriff's Rodeo
(San Bernardino, CA);
Norco Mounted Possee Rodeo
(Norco, CA);
Cedar City PRCA Rodeo
(Cedar City, UT),
Helldorado
(Las Vegas, NV);
Reno
(Reno, NV);
as well as the Tuacahn PBR Touring Pro
(Ivins, UT). During the past 20+ years Diamond G has provided livestock for the following:
Denver Stock Show
(Denver, CO);
Cheyenne Frontier Days
(Cheyenne, WY);
Black Hills Stock Show
(Rapid City, SD);
San Antonio Stock Show
(San Antonio, TX);
Molalla Buckeroo Rodeo
(Molalla, OR),
Snake River Stampede
(Nampa, ID);
Fiesta Days Rodeo
(Spanish Fork, UT);
Clark County Fair
(Logandale, NV);
Dinosaur Roundup Rodeo
(Vernal, UT);
Mountain Valley Stampede
(Heber, UT);
Canyonlands Rodeo
(Moab, UT);
Silver State Stampede
(Elko, NV);
Black Diamond Stampede
(Price, UT);
Winnemucca Pro Rodeo
(Winnemucca, NV);
Western Stampede
(West Jordan, UT);
Harvest Valley Festival
(Pahrump, NV);
Caribou County Fair
(Grace, ID);
Iron County Fair & Rodeo
(Parowan, UT);
San Dimas Western Days
(San Dimas, CA);
Vale 4th of July Rodeo
(Vale, OR) and others we may have left out … In addition, Diamond G had a 9 year run at the
Buck-a-Thon
held at Dixie Sunbowl, Dixie State Burns Arena and Dixie Center from 1991-1999.