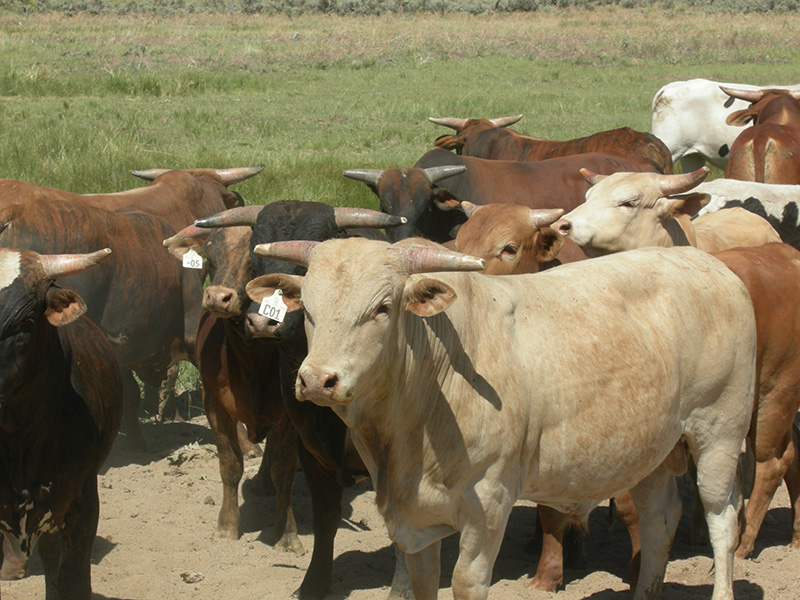 Bulls Breeding
Bull breeding continues to be a main facet of the Diamond G lifestyle. Bucking bulls can begin proving themselves as young as two years old, which is much more convenient than the several year wait with horses.
Although the couple originally planned on being "backyard breeders", they've expanded into a full-fledged breeding enterprise. Thanks to hard work, detailed DNA pedigrees, and knowing the animals on an intimate basis, the couple has found success in the breeding business.
Monitoring livestock's bucking habits isn't the only requirement, as Cyndi will attest. But most of the successful buckers can be traced back to Ricky, the couple's first superstar bull or Orange Crush sired out of the bloodlines of Harry Vold's fighting bull, Crooked Nose, who has been inducted into the PRCA Hall of Fame.
Cyndi enjoys the "chess game" of breeding.
Sometimes, it's just luck of the Irish. A couple of times we've bred absolutely amazing "money bulls" and we "got nothing." Just because the sire bucks, doesn't guarantee his offspring is to going to buck.

My experience shows that the Whirly Gig and Mr. USA bloodlines breed well together. So you find those connections and you try to keep that genetic predisposition.

"When you have good cows, it doesn't matter." Steve grew up at Mt. Charleston raising wild cattle, so he has an eye for "the right cow." "I've had to work and watch to acquire my skills in breeding. Of course, looking for a good black angus cow is an entirely different thing than looking for a good bucking bull or cow. Sometimes the ugliest cow or the most motley looking can be the best animal you've got, so it's not always looks. For example the crooked nose from Ricky — which occasionally comes back through the genetic traits. Since I'm not on the front lines, I've got a guy working for me that can tell you 3 generations back. He's got a photographic memory for what goes well together, and I really appreciate that. [You can't favor] their looks rather than their genetic structure."

"Between Steve's "gut feel" of the animal and our detailed records on how they buck or what the genealogy presents, it's usually a pretty stable breeding result. We do argue about that more than most things. Most people argue about money. I argue about getting rid of a cow. We maintain approximately 100 cows and clones."
Cyndi recounts the story of Mr. USA and breeding lessons learned.
Let me tell you the story of how Mr. USA was born. We noticed that when we would put these great bulls with cows, the first-time heifers had a greater probabliity of dying during the birthing process because they'd never given birth before. Steve had an idea of putting a long-horn bull with first-time heifers. We happened to have a longhorn, Painted Desert, in our bucking string. Based on that gut feeling, Mr. USA was born. Now first-time heifers are always bred to long horns.
The day that Mr. USA broke the NFR record, score of 96/100 — Cody Hancock in 2001, it was electric.