Mar 21, 2016
Diamond G Rodeos has been around for a while.  They purchased their first superstar bull, Ricky #183, in 1989 and haven't looked back since.  They have a track record of producing amazing bulls that give their riders a run for their money.  Diamond G Rodeos' bulls have been in rodeos in Southern Utah, Southern Idaho, Reno and Las Vegas Nevada, and San Bernardino, California, among others.  Here is a list of past and present bulls that make Diamond G Rodeos stand out from everyone else!
White Magic
White Magic is one of the best bulls that Diamond G Rodeo has ever had.  You can see by his historical ranking, which is 43rd, that he was a beast.  In 2007 he got a 24.5 out of 25 for his incredible ride in Nampa, Idaho.  White Magic is the mascot of Diamond G Ranch and personifies the company's grit and zeal.  He was active from 2005-2011 and is still alive today.
Power Ranking: 53rd
Career Buckoff %: 91.13
Career Attempts: 124
Average Buckoff Time:3.36
Career Top Riders:  58
Average Career Mark (out of 25):  22.47
Mr. USA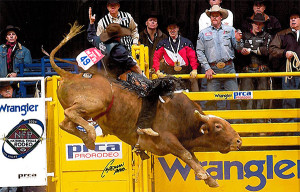 Mr. USA may be the most famous Diamond G-bred livestock.  He had multiple nationwide wins and made sure every cowboy that rode him had an ecstatic ride.  His most famous ride was in 2001 where Cody Hancock broke a 25 year NFR record with a 96 point score.  He got another 96 score in the 2002 Winter Olympics with Blue Stone and won a gold medal. Mr. USA was active from 2001-2006.
Historic Ranking: 70th
Power Ranking: 898th
Career Buckoff %: 77.55
Career Attempts: 49
Career Top Riders:  18  
Average Career Mark (out of 25): 22.35
Check out the video of his 96 point NFR record:
https://www.youtube.com/watch?v=Bq4t42EBEqo
Lil' America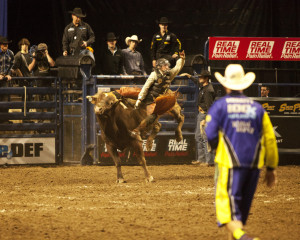 Lil' America is a bull that is still bucking today.  He started in 2013 where his buckoff percentage was only 50% but rose to 60% in 14' and got 100% in both 15' and 16'.  He has had a total of  2 Top Riders, bucking off Shane Proctor in 7.3 seconds.  Trey Benton held on for the full 8 seconds.  Watch out for Lil' America in this upcoming 2016 season because he is going to turn heads.        
Current Ranking: 418th
Career Buckoff %:  83.33
Career Attempts: 18
Career Top Riders: 2   
Average Career Mark (out of 25): 21.40
Frostywhirl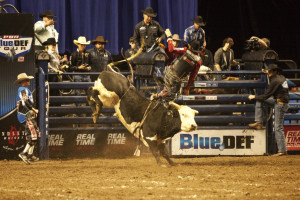 Frostywhirl is an up and coming bull that causes havoc for his riders.  He is fairly young, having only been bucking since 2014.  What he lacks in experience he makes up with energy and strength.  In his last rodeo in Salt Lake City, he bucked off Patrick Chee in a mere 2.40 seconds.  Don't sleep on Frostywhirl because he'll make you pay.            
Current Ranking: 1145th  
Career Buckoff %: 77.78  
Career Attempts: 18
Career Top Riders: 2    
Average Career Mark (out of 25): 21.08
Diamond G Rodeos has had some amazing bulls and horses and to this day is breeding unbelievable livestock.  The legacy just continues to grow with the new generation of bulls that are currently bucking.  Make sure to watch out for their bulls in rodeos near you in Utah, Idaho, California and Nevada!  
---
Leave a Reply