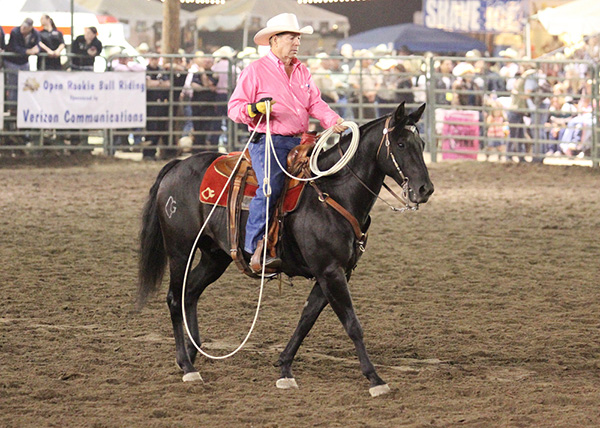 Steve Gilbert
Though born and raised in big-city Las Vegas, Steve Gilbert spent much of his childhood riding on cattle property in small-town Mt.Charleston, Nevada. Taking up bareback, bull riding, bull fighting, and team roping at 12, and fueled by his love for livestock and the rodeo itself, he dropped out of school to rodeo and chase wild horses, cows and burros.
Steve was married with two children by 20. In his mid 20's, a rodeo accident left him with a broken back, seemingly ending his career. Despite his circumstances, he worked three jobs to support his family, with his wife and kids living in a one room Mt. Charleston cabin with a Kalamazoo wood stove, no running water or electricity and the added amenity of an outhouse! With these meager beginnings and not much physical capacity, Steve learned how to operate heavy construction equipment. Although his rodeo dreams were dashed, his determination and work ethic served the family well. Willing to do whatever work it took to support his family, Steve found his own niche in the construction business.
Eventually working for A-1 Asphalt and moving up to the position of president and stockholder in 1972, Steve utilized his hard earned street smarts to launch his own construction company. Working from home and using a friend's 2 acres of land as a storage yard for his two pieces of equipment, Gilbert Development Company was born. Now a full-fledged business that has successfully completed numerous asphalt, paving, grading and underground utility projects in multiple states. In 1980, complete with a general contractors license, this unprecedented construction business had built a good part of Las Vegas, employing up to 300 full time employees.
When Steve moved to Utah in the early 80's he was intrigued by the Iron Mines west of Cedar City, UT.
Another passion of Steve's is flying. He started flying in the early 60's and bought his first airplane in 1974. He has owned 5 planes and 8 helicopters. Currently he owns a 2014 Jet and a 2014 Bell 407 GX. Steve has flown over 12,000 hours as "pilot in command."
After a two-decade lapse from the rodeo business, Steve had never lost his love for livestock. Upon meeting and marrying Cyndi, he took her to the NFR for their honeymoon to share a little piece of the life he loved—the beginning of what would become something incredible. The next year, the couple purchased their first superstar bull, Ricky #183. With a keen business sense, hard work, and a mutual love for the animals, the couple began breeding—and continues to breed today—some of the best rodeo livestock in the business.