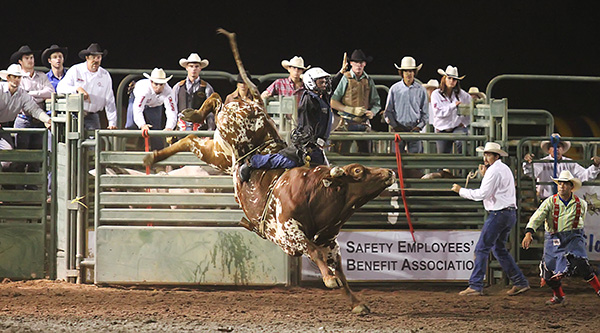 Bucking Bulls
Naming the Livestock
From Mr. USA to White Magic, any spectator to Diamond G livestock will quickly recognize the standout names and wonder about their origin. Cyndi explains that this is usually based on heredity, or the person who named them.
T-bug was named by the then 5 year old daughter of Steve's administrative assistant, Andrea at Gilbert Development. Once the name took hold, I try to follow the genetic link with the names, so 'T' or 'Bug' show up in a lot of the names like 'Turbo T' or 'Elk Bug'. When there is a sponsor such as CR&S, we get names like "Crush Boss" or "Crusher Time," etc.
---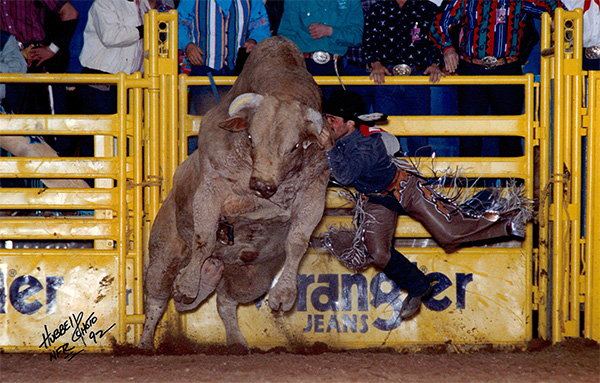 Ricky #183
"Steve's bull" and Diamond G's first superstar, Ricky is the cornerstone for dozens of Diamond G's best-bred animals. For example, Ricky is both the grandfather (sire) and great grandfather (dam) of White Magic. When Norman Curry rode Ricky in the 10th Go of the 1990 WNFR for 94 points, Ricky had gone 309 trips unridden—over 10 world champions and a whole slew of cowboys (i.e. Jim Sharp, Clint Branger, Michael Gaffney, Darryl Mills, Cody Custer, Gilbert Carillo, Adam Carillo, Scott Mendes, Tuff Hedeman, Terry Don West, and others) were never able to conquer him. Ricky traveled from coast to coast and sometimes had several outs per day. His heart never weakened—he actively bucked in the PRCA until he was 15 years old. When he retired he had been ridden a total of 7 times in almost 400 outs. On the day that he died, March 23, 2000, 4 Ricky calves were born. Although initially thought to be sterile, over 100 offspring were born during his lifetime.
---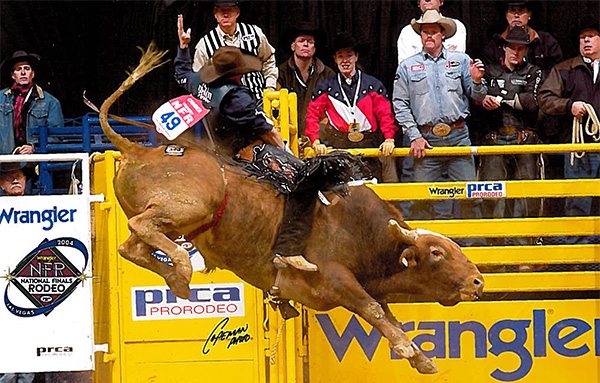 Mr. USA
Mr. USA has only a face a mother would love and a winning style cowboys and fans alike find electric and financially rewarding! Perhaps the most famous of the Diamond G-bred livestock with nationwide wins, Mr. USA has made more than one cowboy a happy man. This bull is best known for his world champion record-breaking 96-point win with Cody Hancock at the 2001 NFR, as well as his 94-point ride with Blue Stone, and USST Cup Finale performance in Las Vegas. In 2002, Mr. USA competed at the Salt Lake City Winter Olympics—dazzling spectators worldwide and bringing home a gold medal, once again with Blue Stone and 96 points!
Mr. USA is still #1 Today!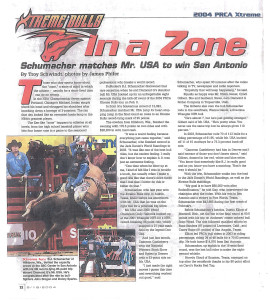 ---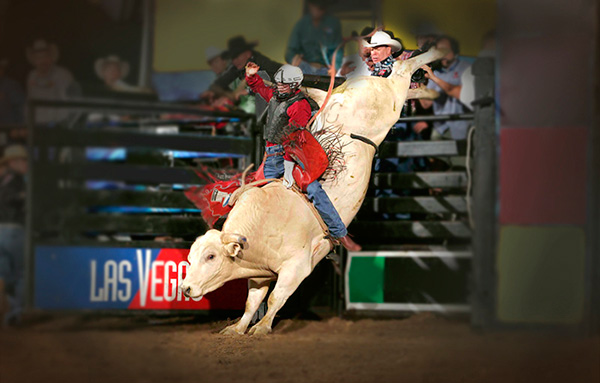 White Magic
A double-bred bull from Ricky grandfather (sire) and great grandfather (dam), White Magic was the bull that opened the door to the PBR for the Gilberts and is still alive today. The mascot of Diamond "G" Ranch, his personality and legacy are stark reminders of Diamond G.
---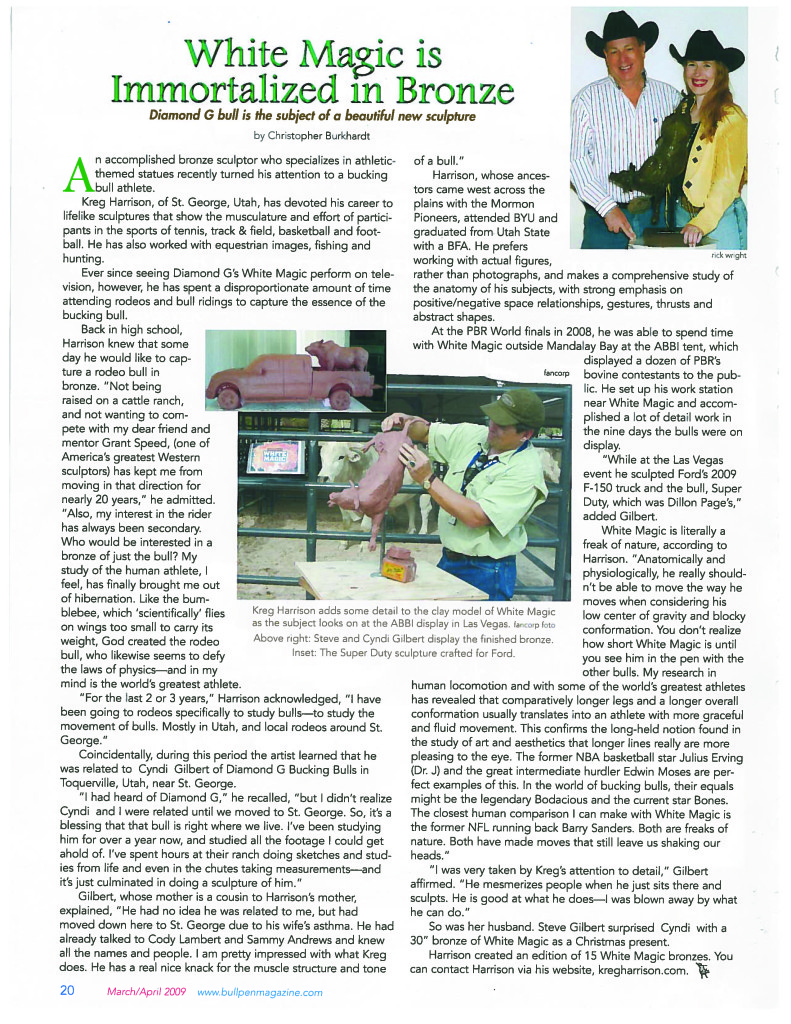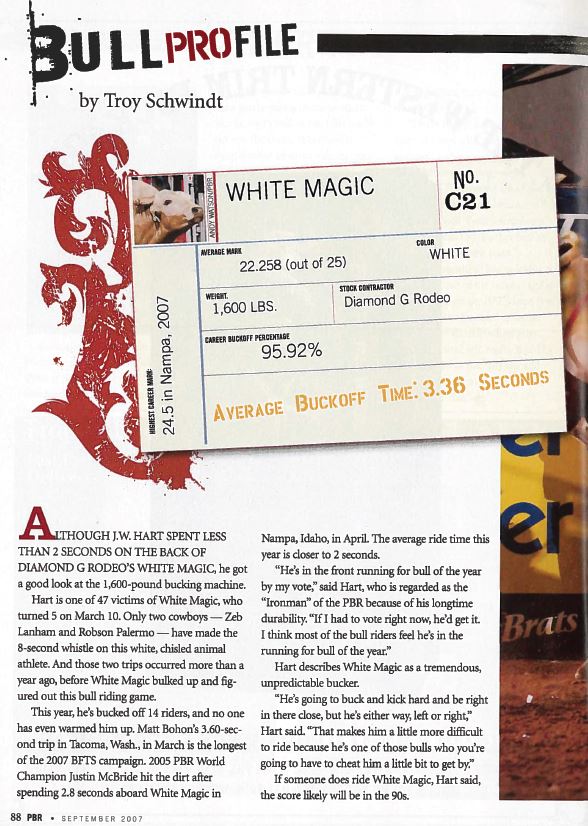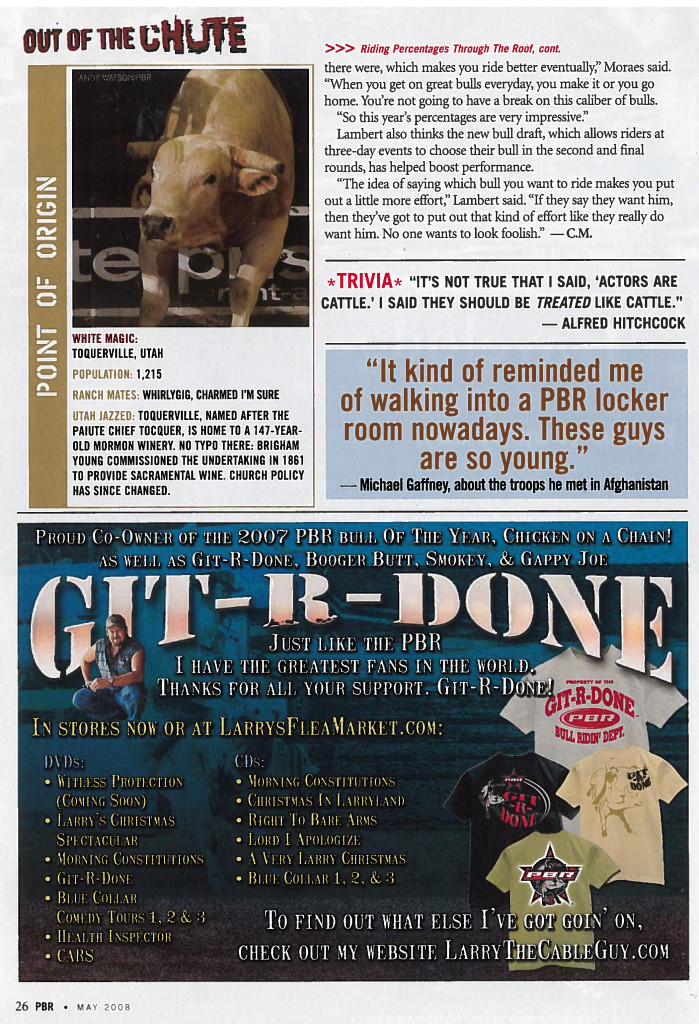 2007 Reno Built Ford Tough Series PBR

Travis Briscoe attempts to ride Diamond G's White Magic during the first round. Photo by Andy Watson

White Magic - SLC - Wes Silcox

White Magic in Pasture

White Magic Beauty Shots